10 reason to come in Puglia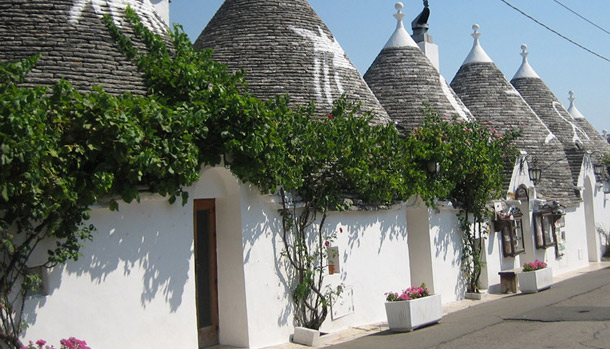 10 reason to come in Puglia
Stay in Alberobello, a unique UNESCO, located in the Valle d'Itria, and sleep in a Trullo, to see what these ancient structures are all about.
Watch a show or even take part in the typical Pugliese dance of the Pizzica. Let your hair down and dance about and sing with the locals.
When you come in Lecce, admire a unique example of baroque architecture. Lecce is also known as the "Florence of the South".
Get lost in the small winding roads of Ostuni, the white city. In Otranto you can visit the Norman Cathedral, with its unique "tree of life" mosaic. Head to Gallipoli to see its unique Arabic influenced architecture and fortification.
Not far from Bari you will find another of Apulia's natural wonders, the Castellana Caves. Have a look down the 60 meters vertical tunnel known as La Grave.
Try to learn cooking "Orecchiette", the typical pasta shape from Apulia. Lovely with broccoli, garlic and chilli, these traditional kind of pasta are made in a unique manner. Go head in Andria and taste the fresh, most delicious, sweet, milky cheesy "burrata" .
You can't go to Apulia without tasting its unique wine: Negroamaro. The full bodied red is delicious, even in summer.
The Atlantis Beach in Gallipoli is a popular destination with DJs coming to play sets from all over the world giving you the possibility to dance from the sunset to the sunrise.
Visit the fortified structure of Castel del Monte in the area of Andria. It was built by Holy Roman Emperor Fredrick II.
Is it the Maldives? Or is it Apulia? Marina di Pescoluse is an absolutely stunning place and yet another reason to visit Apulia. Here are other beautiful beaches in Italy, and there's plenty in Puglia to choose from.